MTB Hawaii loves RaceSplitter
This article is republished with permission from MTB Hawaii.
What is Racesplitter?
After getting into the mountain bike race scene more this past year I thought I would do a write up on some software we have been using to time our races. It's called RaceSplitter by Makalu Interactive and has played a big part in making our races run smoothly.
RaceSplitter is designed for use on Apple devices such as the iPod, iPhone and iPad. It's available for download on the iTunes store for $25.
With the mountain bike race scene being so small in Hawaii it isn't feasible for us to pay thousands of dollars for a chip based timing system. At a small price RaceSplitter has allowed us to conveniently and accurately time our races.
How I use Racesplitter to make my life easier
I use RaceSplitter for three types of mountain bike races.
Downhill racing where riders start at intervals. Each rider gets two runs. The first run is a seeding run and determines the order of the second run.
Cross Country races that are mass start and each class or division rides a different distance.
The third are endurance races. These are mass start races where time and not distance, determine the start and finish of the race.
A real world example
The best way to show how useful the software has been is to explain how I used it at our last race, the Dawn Till Dusk Season Opener. It was a full day of racing with both a Downhill event and Super-D.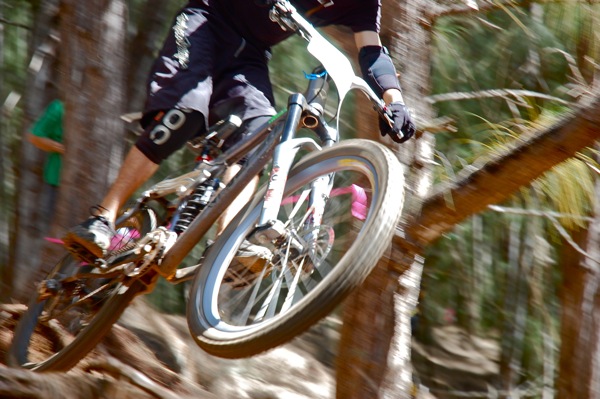 I wanted to eliminate as much trouble as possible on race day so I had pre-registration. The RaceSplitter software comes with a companion website that allows you to create races and build start lists. Before the race started I had half of the entrants entered into the companion website already. So much help on a busy race morning.
On race day I handled the registration table and had an iPad 3G. I had two other volunteers working the start and finish lines, each had an iPhone equipped with the RaceSplitter software. At the registration table I pointed my iPad's web browser to RaceSplitter and entered racers directly into the online software as they paid. With the ability to enter pre-registrations and add to that same list on race day I had plenty of time to complete registration.
Now I needed to get the start list to the top of the mountain and to the finish line. Easy! I exported the completed race from RaceSplitter from my iPad to both of the iPhones. The volunteers at the start and finish were able to open the email on their iPhones and import the completed race directly into the RaceSplitter software on their phones. Done! Time to start the race.
RaceSplitter has a great feature that allows races to start automatically at a pre-determined time. As long as the iPhones being used to time the race are synced you can rely on this feature to make sure both devices start at the exact same time.
At this point my race is running and both my volunteers have everything they need. At the top they have an iPhone with a start list of bib numbers, names and the interval each rider will leave at. At the bottom the volunteer has a start list and is waiting for riders to come across the finish line.
One possible hiccup is that if there is a crash you may have riders coming across the finish line out of order. Not a problem with RaceSplitter, if they come across out of order you can easily go back and enter the correct bib number.
When the seeding run was completed I needed to reorganize the start list. Slowest finishers first and fastest last. The volunteer handling the timing at the finish line exported the seeding run race results from their iPhone to RaceSplitter. Once the results were online I was able to view them with my iPad at the registration table. While riders were making their way back up the mountain for their final run I was able to use the results at RaceSplitter and create the new start list. After I was done I once again emailed the final race file to both iPhones.
After the race was completed I immediately had a list of winners and their times for all three divisions.
All that for only $25. It's hard to believe I went so long using a stopwatch and paper…
I have a cross country race coming up in a couple of weeks and knowing the timing and registration are all taken care of is great for my piece of mind!
A little about the people at Racesplitter and Makalu Interactive
When I first started using RaceSplitter for mountain biking some features were missing. With a little creativity I found workarounds and the software was immensely helpful. After using it I emailed the developers and explained more about mountain bike racing and what some of our specific needs were regarding timing software.
One of those needs is for endurance races. Most races have a start and finish that is determined by a specified distance. Our endurance races don't, what determines the start and finish is a fixed time, it could be 3, 6, 12 or 24 hours etc.
The RaceSplitter team got to work and this feature, among others I requested, were released in a free update. Since then the software has frequently been updated with useful features. Talk about finding a company that cares about what its customers say.
My final thoughts
It's obvious I'm happy with the RaceSplitter software. It's affordable, capable, easy to use, comes with great support and has a development team behind it that is dedicated to making it the best.
Would I recommend it to others? Absolutely! It's capable enough for race organizers yet affordable enough for parents who have kids in sports. I've already recommended it to other mountain bike race organizers, cross country coaches and friends.
Thanks to Matt Henderson and the RaceSplitter team at Makalu Interactive for doing such a great job.